Marketing Plan
Wisconsin is the perfect place to discover the magic of winter. Our sparkling snowscapes, downhill thrills, craft culture and cozy cabins all spark unexpected moments, big and small — creating stories that are told again and again. And our Winter Advertising Campaign is showing this in eye-catching, inspiring ways backed by research, data and strategy.
This campaign marks a historic investment in winter advertising by Travel Wisconsin, to help spur the tourism industry recovery. Our Propensity to Visit Model pointed us to 12 advertising markets as the most strategic place to get the highest return our investment. We invested in these markets in summer 2021, doubled down in fall and we'll be back in all 12 of these markets in winter as well. In fact, Travel Wisconsin is spending more on the winter 2022 campaign than the last six winters combined. This is Travel Wisconsin's strongest, most impactful winter campaign yet.
The production of the campaign's creative had us traversing the state, capturing actual families and authentic friend groups experiencing the real-life wonderland that is Wisconsin in winter. The genuine nature of these moments shines through.
In Green Bay, we captured at Lodge Kohler, Hinterland Brewing and Ariens Hill. We went to Wasau for the slopes of Granite Peak and to Woodruff for Coon's Franklin Lodge. We snowshoed and snowboarded, hot-tubbed and toasted, and much more.
Here's a close look at the marketing assets we're utilizing for the campaign:
TV Spot – In Wisconsin, Winter Wonderlands Really Do Exist
At the center of our campaign is this 30-second TV spot. It immerses viewers in the wonder of Wisconsin's winter. From exhilarating downhill runs to fireside "cheers" after a day full of slope-shredding, from unforgettable family moments to the finally-alone feeling shared with someone special — and it's all set in our winter magic with a warm Wisconsin invitation.
There's a lot more packed in these 30 seconds. See for yourself:
Video Extensions
We've created shortened 15-second versions of the TV spot. Each focuses on something different (the overall brand, family and skiing/snowboarding), allowing us to further target consumers, showing them what resonates most.
Digital Display
Our animated digital banners and high-impact mobile ad units inspire travelers to experience Wisconsin's winter wonderland. We're utilizing multiple versions of copy and imagery to target relevant audiences with key topic areas. And by carefully matching the look and feel of other assets, these ads create a cohesive, intuitive experience for users.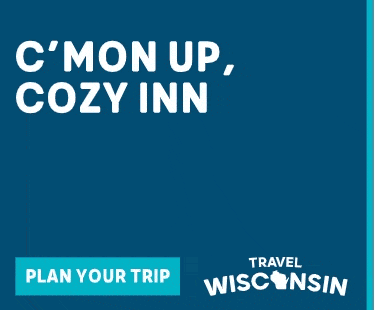 Audio
Leveraging broadcast and streaming audio platforms, our 30- and 15-second winter audio spots immerse listeners into an array of Wisconsin winter experiences, including unforgettable moments with family and the playful energy speeding down our ski slopes.
Social
Captivating ads across multiple social platforms showcase winter travel in Wisconsin. We leverage 30- and 15-second videos to engage viewers, drive web traffic and inspire travel.
Out-of-Home
Our OOH boards give quick peeks into the wonder of Wisconsin's winter wonderlands. The copy is concise and the imagery is stunning, catching viewers' attention and keeping winter in Wisconsin top of mind.