Excited to hit the hill this winter, but haven't quite got your ski legs yet? No problem – whether your brand new to the slopes or just in need of a little refresh, Wisconsin's ski hills are home to plenty of beginner-friendly courses and runs that'll have you tearing up the powder in s'no time. Meet you on the mountain!
Granite Peak is one of Wisconsin's premier ski resorts. The park boasts an impressive 700 feet of vertical height and 75 total runs. What sets this location apart for beginners is that 30% of the runs are graded as easier and beginner friendly. You'll also find a fantastic ski school here that offers lessons for everyone from young children to women's-only adult groups.
Christmas Mountain – Wisconsin Dells
This small ski hill packs a big bang for your buck. Four of Christmas Mountain's 16 total runs are beginner friendly and excellent places to learn. They also have a high number of quality intermediate runs like Gilly's Gulch, where quick learners can go to test their skills. For the best experience at Christmas Mountain, consider staying on-site at their resort and booking your lift ticket and lessons in advance.
When learning to ski, something that can easily slow progress is the relatively short length of most beginner runs. If you've had some intro lessons and are looking for a longer green run that you can truly develop your skills on, then Mt. La Crosse is the perfect hill for you. It features one of the longest beginner runs in the state and has a great ski school on-site in case you need a refresher once you get there.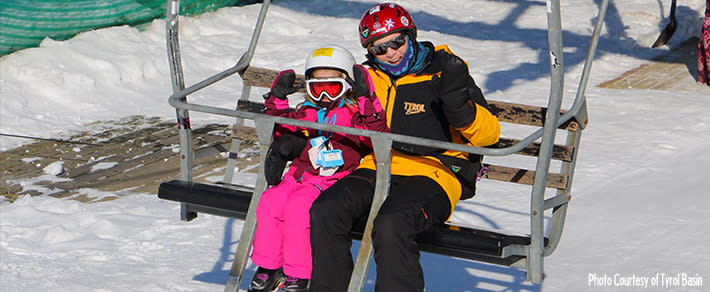 Tyrol Basin
Unsurprisingly, some of Wisconsin's biggest ski hills can also draw the largest crowds. Tyrol Basin is by no means small, featuring 18 different runs across 40 acres of land. But thanks to an excellent layout the hill never feels too crowded, especially in the beginner friendly areas. As an added bonus for newcomers who may be intimidated by crowds, their beginner-focused magic carpet lift provides access to two short runs that each finish away from where the more advanced lifts let out.
Sunburst – Kewaskum
If you're planning a trip for the whole family but not everyone is interested in skiing, then Sunburst is the perfect destination. This park features a pair of great beginner ski runs, as well as some manageable intermediate runs. The non-skiers in your group will have a blast in their exceptional tubing area which offers two magic carpet lifts!
Christie Mountain – Bruce
This Northwoods ski hill is in many ways a beginner skier's paradise. The hill features 11 different beginner runs and offers some of the most competitively priced private lessons in the entire state. Oh, and keep your eyes peeled for the Big Blue Beast. If the legends are true, you just might see this snow-dweller roaming the slopes of Christie Mountain.
Looking to turn your ski trip into a full-on winter getaway? Check out these ski-side cabins in Wisconsin, or browse all of our winter getaway trip ideas for more!