At some point in their lifetime, everyone should create memories among the ethereal landscape of Door County. In an area where vibrant social activity mingles with natural splendor, fun is available in an array of options for people of all ability levels. Whether you identify as an aficionado of leisure, an energetic wayfarer, or somewhere in the middle of the adventure spectrum, there is a place for you in Door County.
Eat
Good food is tethered to fond memories, and Door County is plentiful in unique dining experiences. Since you will need nourishment to fuel your accessible adventures, these restaurants have you covered on all levels.
For a hearty brunch bursting with freshness and a bright vibe of breezy comfort, try Grasse's Grill in Sister Bay. Wander a few doors down to the delightful Door County Creamery and indulge in a silken dish of sweet goat's milk gelato available in extraordinary flavors such as Roasted Almond & Fig, or peruse their stellar selection of artisanal cheeses and deli items to pack in a picnic basket. If you find yourself in the mood to lounge at a charismatic gastropub offering irresistible small plates and a beer cafe menu, Clover & Zot is the place to check out.
At times, the most accessible dining options are not within the crowds of brick-and-mortar restaurants, but out in the open air. Harbor Pizza food truck regularly parks in the beer garden of Hacienda Beer Company in Baileys Harbor, serving a simple menu of rustic wood-fired pies crafted with high-quality ingredients. Settle into a scenic table at Harbor Fish Market & Grille's garden seating for a captivating vista of lakeside radiance and a refined selection of fresh seafood and steak dishes.
Stay
The enjoyment of a getaway often hinges on the ambiance of lodging. Blacksmith Inn on the Shore is a quaint bed & breakfast on the quiet side of the Door. Located in the heart of Baileys Harbor, Room #8 of this charming accommodation offers a fully handicap-accessible design for travelers with mobility challenges. As the peaceful lapping of Lake Michigan waves falls gently on your ears, staying in this room will surely instill a sense of rejuvenation within you. Venture one block down the street to explore the Ridges Sanctuary, an immensely accessible natural area featuring graceful wildflower blooms along the Hidden Brook Boardwalk.
Other spectacular accessible lodging options include the ADA cabin at Potawatomi State Park and The Stone Harbor Resort's ADA room located on the first floor, both situated in Sturgeon Bay.
Play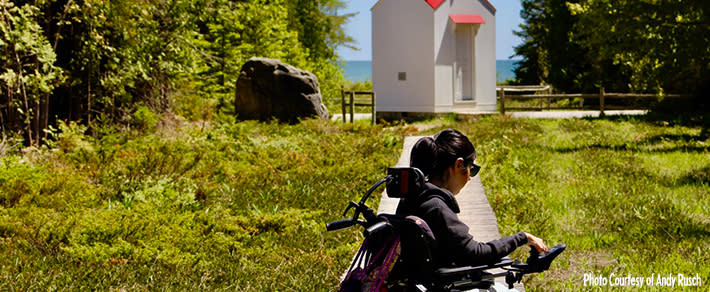 Nestled in Door County are four wondrous state parks, all located within close proximity to one another. Newport State Park has been designated one of the nation's Dark Sky parks due to its low levels of light pollution in a wilderness setting. After hiking the 1.2 mile wheelchair-friendly Fern Trail, allow the exploration to linger into twilight hours for a captivating episode of stargazing under a blanket of the cosmos.
Navigate many picturesque trails with ease at Peninsula State Park — wander the Sunset Trail where bountiful sightings of distinctive birds flutter within the tree canopy. Explore the Brachiopod Trail at Whitefish Dunes State Park for an interpretive journey alongside fossils of a forgotten time, and watch your surrounding landscape evolve from a stark white oasis of jagged shoreline to a wooded haven abuzz with forest life.
Catching a magical sunset is a relaxing activity that is accessible to all and connects us to the outdoors in a fun, meaningful way. In Sister Bay, Waterfront Park is an easily reachable area near accessible parking with level terrain; choose a seat to unwind and soak up nature's enchanting evening event.
Explore more of Wisconsin's accessible natural areas at these four trails not to miss, and find more fun in Door County here!