Whether you like to paint them or carve them, bake 'em or eat 'em, it's time to hit the pumpkin patch to pick out your favorite for the fall season.
Every autumn, Wisconsinites flock to their local pumpkin patch in search of the best. Sometimes that means tall and skinny, sometimes short and round, sometimes even green and misshapen; the perfect pumpkin is loosely defined, and its beauty is in the eye of the beholder.
So whether you want to pick your own pumpkin to take home, have a slice of fresh pumpkin pie or just want to celebrate the season, there's no shortage of ways to enjoy the power of the pumpkin in Wisconsin. Here's a sampling of great pumpkin patches around the state!
Northern Wisconsin Pumpkin Patches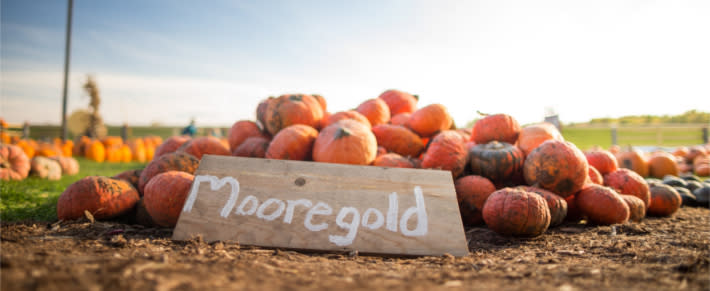 Schwertel
Schultz's Country Barn - Eleva
This unique farm is a combination gift shop, banquet facility, petting zoo, locally grown produce market and in the autumn, a pumpkin patch extraordinaire! Also every fall, a fun and challenging corn maze.
Mommsen's Produce Patch - Rice Lake
Mummsen's features an unusual array of pumpkin "artillery," including the medieval trebuchet catapult capable of throwing a 50-pound pumpkin more than 300 feet and an air cannon that can send an eight-inch pumpkin sailing more than 1,700 feet.
Altenburg's Country Gardens & Pumpkin Patch - Wisconsin Rapids
More than 40 years of family-friendly fall fun including weekend hayrides and corn mazes.
Porter's prides itself on a wide variety of premium fall season fruits and vegetables fresh for the picking. How about a game of pumpkin bowling for a little autumn fun?
Southern Wisconsin Pumpkin Patches
Swan's Pumpkin Farm - Franksville
Thousands of pumpkins in all shapes and sizes for your pickin' pleasure along with a puppet show, petting zoo, corn maze, country market, and Cauldron Cafe.
Apple Holler Restaurant & Playhouse - Sturtevant
In addition to picking perfect pumpkins, peaches, pears, and peas, you can also enjoy a restaurant, dinner theatre, tours, animals, and the Apple Holler Mining Company's gemstone panning for precious stones!
Treinen Farm - Lodi
Treinen boasts Wisconsin's largest corn maze, horse-drawn wagon rides to the pumpkin patch, a tube slide, tractor tire playground, mini-maze, pumpkin slingshot, farm animals and plenty of seasonal fall foods.
Creek Bed Country Farmacy - Poynette
Twist and turn through the 18-acre corn maze. Board a hayride to the pumpkin patch or have the kids play in the Farmacy's "Back 40" Playground, complete with swings, corn sensory tables, play structures and a 75-foot gunny sack slide.
Vesperman Farms & Bures Berry Patch, Inc - Barneveld
There are many excellent choices for finding pumpkins in southwest Wisconsin. Two to try are Barneveld's Vesperman Farms, farmed by the Vesperman family for well more than a century, and Bures Berry Patch, where a philosophy of best management practices minimizes the environmental impact involved in producing a wide variety of premium fall produce.
Pumpkin for the Taste Buds
Stockholm Pie & General Store - Stockholm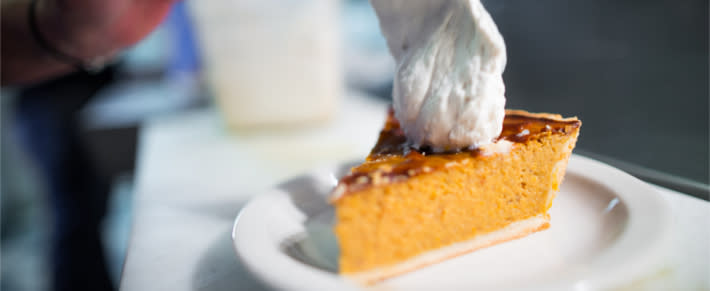 Stockholm Pie
No commercial pie dough, roll dough or pie fillings for these sweet treats from a little shop located along the Mighty Mississippi. Each pie is made by hand from the freshest ingredients possible. Their pumpkin pie is no exception. It's a fall favorite.
Hubbard Avenue Diner - Middleton
Their motto is "famous for pie!" Three of their fall featured flavors are pumpkin, pumpkin chocolate chip and pumpkin pecan. How could you not give them a try?
Norske Nook - Osseo
Several of their made-from-scratch pies have won awards at the annual APC National Pie Championships. Try the pumpkin cream cheese for a seasonally sensational piece of pie! You can find Norske Nook all around the state, with additional locations in DeForest, Hayward and Rice Lake.
Sweetie Pies - Fish Creek
Among the many treasures of Door County, this little gem was named by National Geographic Traveler as one of the top five places to get pie in America. Sounds good to us!
The Candy Shoppe & Bakery - Bayfield
People say it's impossible to leave here empty-handed. Fresh-baked pumpkin pies and savory pumpkin bread are popular menu items.