Have you ever sipped a cocktail surrounded by Christmas ornaments? How about a beer off the bow of a Viking ship? At these Wisconsin bars, it's not just what you're drinking, but where you're drinking it that makes all the difference – and these aren't your typical happy hour hangouts. Gather up your friends for a round or two at these one-of-a-kind watering holes around Wisconsin.
It's "the most wonderful time of the year" every day of the year at Cleo's, where the halls are decked from top to bottom with all things Christmas. Lights! Ornaments! Tinsel! It's all there, in excess, turning this cozy cocktail lounge into a holly jolly holiday hotspot whether you stop by in December or June. Their signature drink is the Dirty Snowball, best described as an "adult milkshake" – don't leave without trying one!
If Wisconsin's winters have you dreaming of curling up in a log cabin and sipping drinks fireside, Camp Bar is here to make it a reality. Bringing the spirit of the Northwoods to downtown Milwaukee, Camp Bar's magic is in the details – everything from the menu (Wisconsin cheese curds) to the décor (buffalo plaid and mounted moose heads) to the drinks themselves (Schlitz Tall Boys and Old Fashioneds) channels the no-frills, friendly atmosphere the Northwoods is known and loved for.
But Camp Bar doesn't just replicate the classics, it takes them up a notch – their creative Old Fashioned menu includes drinks like the Maple Leaf, with a base of maple whisky, and the Smith & Wesson made with real Kentucky bourbon.
1980's summer camp movies are the inspiration for this kitschy rooftop bar atop Madison's Graduate Hotel. Kick back and enjoy views of the Capitol City over a game of Uno and a bug juice, served Capri Sun-style: plastic packet, straw and all. Wood paneling and retro furniture round out the old-school camp vibe, and when the weather's right, a bonfire (with all the fixings for s'mores, of course) lights up the night on the outdoor patio.
Duke's Country Saloon – Kenosha
Why sit on a barstool when you could sit on a barswing? Give your boots a break and take a seat Duke's, where indoor swings hang from the ceiling and country music keeps the crowd dancing 'til late. Inspired by the Nashville honky tonk scene, the saloon offers line dancing and live music every weekend.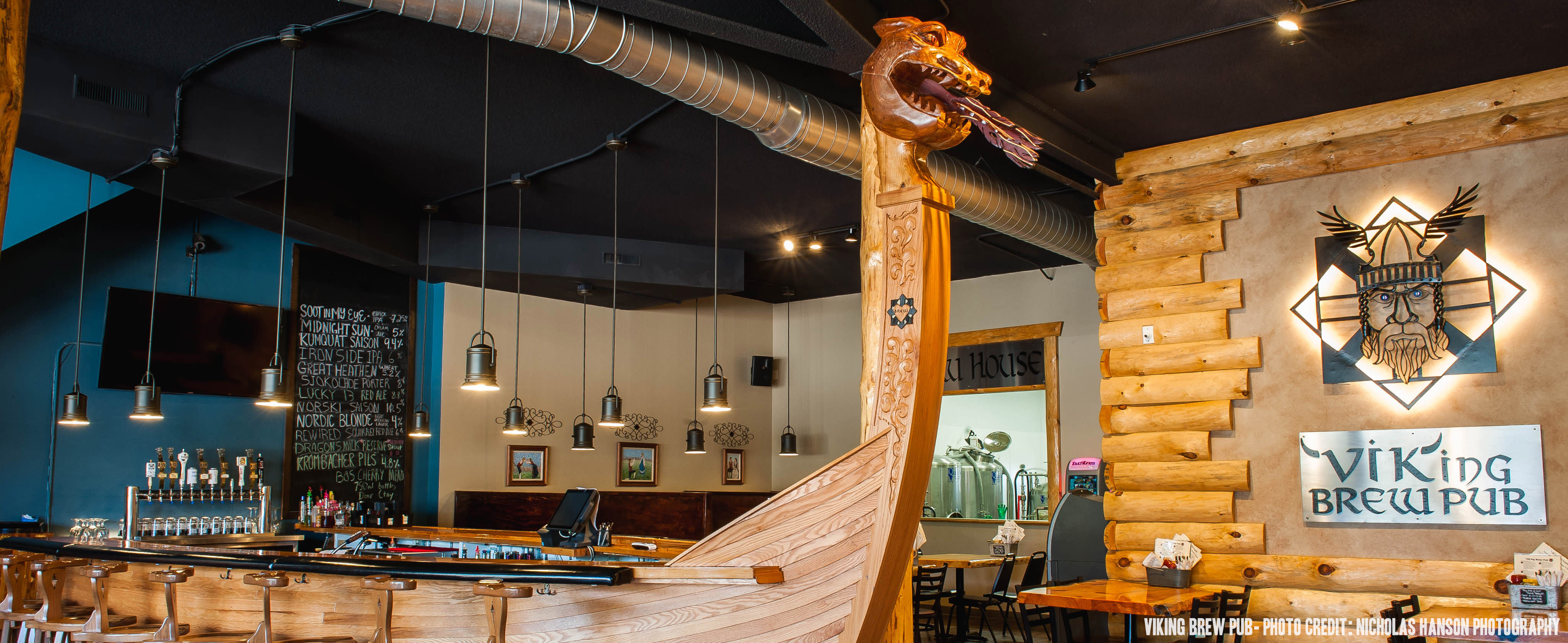 Viking Brew Pub
Channel your inner Norwegian at Viking Brewpub, where hometown Stoughton's Scandinavian heritage is on display in everything from the menu, to the beers, to the mightily impressive bar. The bar is the centerpiece of the pub – fashioned to look like a Viking Long Ship, stools circle the sides and Nordic-inspired taps, like Sjokolade Porter and Nordic Blonde, are poured from the center.
Authentic Scandinavian dishes round out the full menu – try the Norwegian meatballs (a Saturday special) or a salad with homemade lingonberry dressing for a taste of the local culture.
You know where to go for happy hour, but what about brunch? Kick off your weekend with one of Wisconsin's most unique Bloody Marys.