Winter has a way of bringing people closer together, from skiing and sledding to frosty hikes and warm fires. Luckily you can find all that (and more) in Wisconsin. Fill up your bucket list with some of our favorite winter activities you can't miss this season!
Stroll Through Small Towns
In winter, Wisconsin's small towns burst with enough idyllic charm to do a Hallmark movie proud. Whether you're window shopping in Ephraim, drinking cocoa in a Cedarburg café, strolling through holiday lights in Hudson or snuggling up by the fire at a Bayfield B&B, you'll be surrounded by the kind of neighborly comfort and hospitality that's only found in places where the world moves a little slower.
Each small town has its own unique personality — discover one that matches yours!
Fly Down a Tubing Hill
Young or old, tall or small: You're invited to slide down Wisconsin's snow tubing hills. Snow tubing is the perfect family activity — everyone gets the thrill of winter sports and there aren't any special skills required!
The whole group can tube together at Sunburst Winter Sports Park, where over 40 tubing lanes drop riders 10 stories at exhilarating speeds, or down one of six unique tubing hills at Badlands Sno-Park, ranging in intensity from Bunny to Turbo. 
Have a competitive crew? Settle once and for all who's queen/king of the hill with a race at these family-friendly tubing parks.
Sample Seasonal Brews
When cold weather strikes, good drinks come to the rescue, and many craft breweries are stirring up special creations for just this time of year. New Glarus Brewing Co. adds naturally sweet clover honey into their winter Cabin Fever beer, accenting warm notes on your tongue, and the Brewers Reserve Bourbon Barrel Stout is Central Waters' most sought-after beer of the year, aged in oak bourbon barrels and flavored with hints of vanilla.
Over 200 craft breweries are mixing up creative flavors around Wisconsin — find one close to you!
Cozy Up in a Cabin
Enjoy all things hygge (with a Midwestern twist) during a winter stay at a Wisconsin cabin. Here, you're spoiled with options — every region of the state boasts a variety of cabins, each with its own distinct charm. To fully embrace the flakes, consider a trip to our Up North region. The area receives some of the state's highest snowfall totals, and its many lakes and lush Northwoods forests are the perfect backdrop to family time in a cozy cabin.
No winter cabin is complete without a warm fire. Pull on your pajamas, pour the hot chocolate and curl up in these cabins with amazing fireplaces!
Gas Up the Snowmobile
Why take the car when you could take the sled? Winter in Wisconsin means snowmobile season is in full swing, and no corner of the state is left untouched by our expansive network of trails.  Start your ride in the Snowmobile Capital of the World, Eagle River, where 500 miles of groomed trails connect to the greater Northwoods and the International Snowmobile Hall of Fame displays the evolution of snowmobiles, from the first models to the present day.
So many trails, so little time: Discover which places you can't miss this winter with these top Wisconsin snowmobiling spots.
Explore the Ice Caves
This one's all up to Mother Nature – but if she cooperates, you'll be treated to the sight of a lifetime. When the temperatures drop and the conditions are right in Bayfield, the famed Apostle Islands Sea Caves freeze over to become sparkling ice caves. Once Lake Superior is safely frozen, you can walk from the shore straight into the caves themselves – where ancient, otherworldly rock formations are covered with thousands of glittering icicles.
Get the latest update on whether the caves are open.
Warm Up at a Waterpark
80-degree temperatures are a lot closer than you think! If an easy winter escape is what you need, trade your snowsuit for a swimsuit and head to a Wisconsin waterpark. Balmy summer weather reigns all year round at indoor parks like Tundra Lodge, but for a taste of both warm and cold, head to the Kalahari – their indoor/outdoor hot tub is open through winter, and is the coolest (pun intended) way to stay warm while still out in the snow.
Whether you like to whip down water slides or kick back on the lazy river, discover some of the best rides and slides at Wisconsin's indoor waterparks.
Take a Trip for Two
If summer is the season of family vacations, winter is the perfect time for you and your special someone to get away. Foodies can cook their own delicious dish under the guidance of chefs at the Lake Geneva School of Cooking, outdoor-lovers will find fresh air and frozen waterfalls on a hike through Amnicon Falls State Park, and adventure-seekers can soar over snow-topped trees on a Northwoods zip line tour. Wrap up your weekend with a cabin stay, and you've got a foolproof plan to recharge for the year ahead.
Need more inspiration? Sneak away for a weekend to these cozy Wisconsin cabins for couples.
Hit the Slopes
No need to set your sights west for great downhill skiing – Wisconsin is home to the third-most ski resorts in the country, and that means snow shredders and newcomers alike can find runs to fit their comfort level all over the state. Daredevils can head to Whitecap Mountains for five stomach-dropping double black diamond runs, but if light and breezy is more your style, try Granite Peak, where almost a third of the runs are graded as easy, or Tyrol Basin, where a beginners-only magic carpet lift leads to two gentle slopes. 
Haven't quite got your ski legs yet? No problem – check out these ski hills great for beginners.
Hike by Candlelight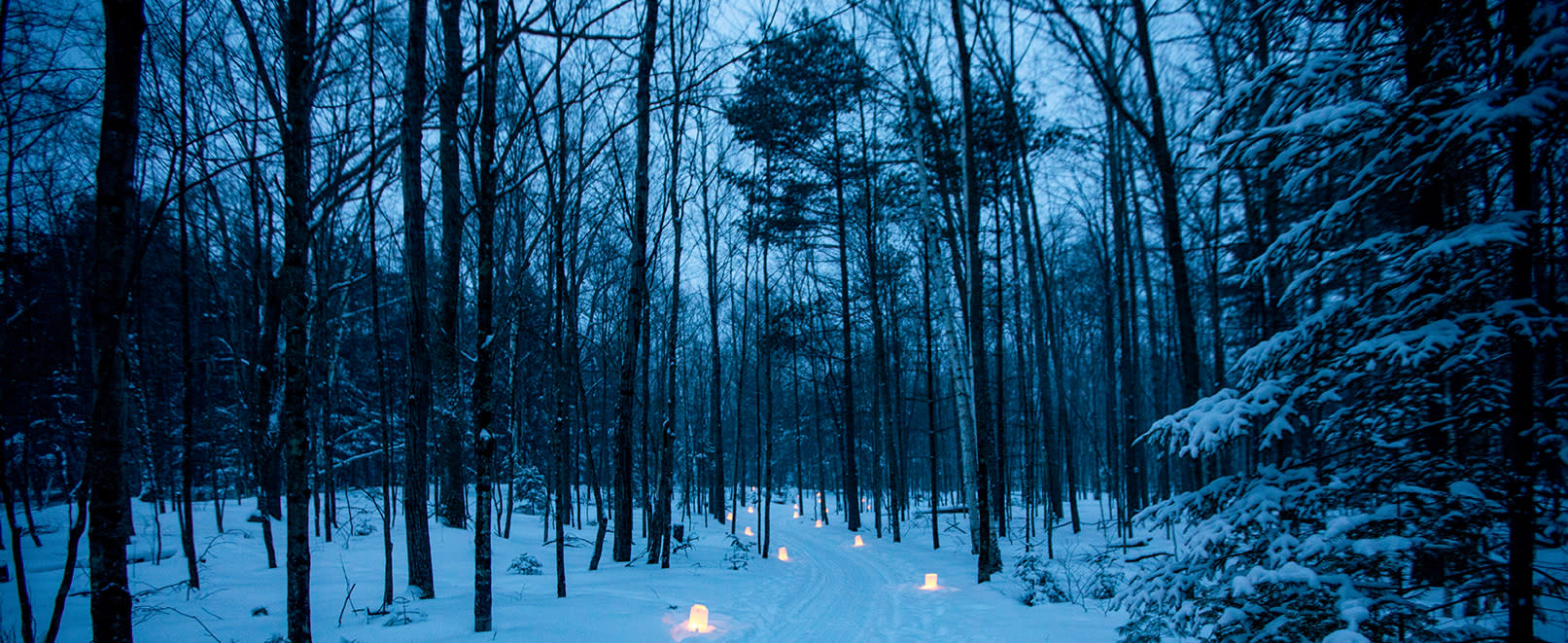 Candlelit Trail at Fish Creek Winter Festival
See Wisconsin's parks come to life by candlelight on special nighttime hikes held throughout winter. Bundle up for a walk (or snowshoe, or cross-country ski) among snow-covered pines and luminaries at events like the Norskedalen Candlelight Snowshoe Hike, where snowshoes are available to rent and hikes end with hot chocolate and s'mores by the fire.
Browse our full lineup of events for more candlelight hikes coming up this season.
Check out more winter activities around the state and keep up with the latest snow conditions with the Wisconsin Snow Report!