The world teems with booming sounds, bustling crowds and bright lights. These things might be mildly troubling, but for kids with sensory-processing disorders, they're overwhelming to say the least. If your child has autism, ADHD or another sensory-processing disorder, you'll be comforted to know that he or she can enjoy a children's museum, too, in an environment with their needs in mind.
Wisconsin is full of delightful children's museums, and many of them hold special sensory-friendly days tailored to your family. Here are four museums that are caring and considerate toward kids with sensory-processing disorders. 
Building for Kids Children's Museum – Appleton
The Building for Kids Children's Museum in Appleton is complete with exhibits like a real-live jet where kids can pretend to be pilots, a 10-foot slide that looks like the human heart and animals like birds and fish.
Every third Sunday of the month, the museum caters to sensory-sensitive kiddos with a lower-sensory experience and special programming. The museum offers resources all the time as well, not just the third Sunday every month, including a quiet room to take breaks and a play script that takes kids through their visit ahead of time.
Madison Children's Museum – Madison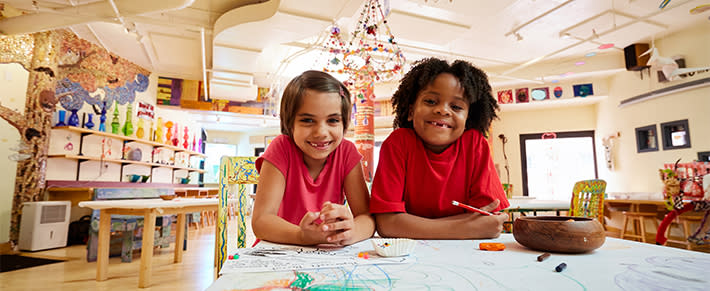 Two Girls at Madison Children's Museum
The Madison Children's Museum features Sensory-Friendly Museum Time, held on the second Wednesday of each month. You can pre-register ahead of your visit to receive an express check-in. Your family will soak up the hands-on exhibits, from the colorful art studio to the rooftop garden featuring a greenhouse-treehouse and chickens.
The museum makes special considerations on these Wednesdays for visitors on the spectrum, such as turned-off hand dryers and designated comfort rooms. Fidgets, timers, headphones and other sensory items are available as well.
The Children's Museum of Green Bay – Green Bay
The Children's Museum of Green Bay also hosts specific days with sensory needs in mind. On the third Thursday of every month, your family can attend Sensory Friendly Day. The museum, which includes a pretend farmers' market, construction site, vet clinic and fire station, is closed to the general public on these days to prevent large, overtaxing crowds. Lights and sounds are lowered as well, and there are a variety of sensory activities to take part of amid their 13 interactive galleries.
Children's Museum of Eau Claire – Eau Claire
On the third Sunday of the month, the Children's Museum of Eau Claire provides what they call "a safe and soothing environment" to little ones with sensory needs. With permanent exhibits like "Show Business," where kids can put on theater productions, "Water Works" brimming with interactive pumps, wheels and water pipes, and "Under Wisconsin Skies" where kiddos can pretend they're camping in the Northwoods.
Special Kids Days will close the museum to the public, provide extra staff and lots of sensory-friendly activities. Admission is free, too! Just be sure to sign up in advance.
Find more kid-friendly fun on these Wisconsin family getaways!