There's that word, charming. It implies friendly, quaint, engaging and delightful, and what small town doesn't want to be known for that? Here are seven towns in Wisconsin that are the essence of charming, each in their own endearing way.
New Glarus: Alpine Flavor
The old-world charm of New Glarus is evident with first view of the pretty Alpine-style architecture and colorful flower-filled window boxes. It's called "America's Little Switzerland" – it was originally settled by the Swiss in the mid-1800s - and you'll even hear Swiss music piped downtown. Make the Swiss Historical Village Museum one of your stops to get the full story.
Come with an appetite and a thirst. The family-run New Glarus Brewing Company is a landmark here, having racked up lots of taste awards since opening in 1993. Tour the brewery and then enjoy a sampler. Shop Edelweiss Cheese for cheeses made by their master cheesemaker. Maple Leaf Cheese & Chocolate Haus has 100+ cheeses from Green County and homemade fudge. New Glarus Bakery makes its Swiss delicacies just as it did in 1910. The New Glarus Hotel Restaurant serves everything that ends in "schnitzel."
Susie Weiss, executive director of the Chamber of Commerce & Visitor Center, added Puempel's Olde Tavern with its 100-year-old murals to the list for food stops. She also said "there is live music somewhere every weekend, and it's not always polka music."
To balance all that eating and sipping, bike the 23-mile Sugar River State Trail. You're bound to see a few Brown Swiss cows along the way.
Best Fests: New Glarus clearly loves a party. There's Polkafest, Swiss Volksfest (Switzerland's Independence Day), Wilhelm Tell Festival, and Oktoberfest.
Chippewa Falls: Lakes and Leinie's
Leinie
When asked if there was a theme line for the community, tourism director for Chippewa Falls, Jackie Boos, chirpily replied, "You'll love this, it's 'Natural Beauty. Local Charm.'" This Northwoods favorite has so much going for it in the charm category – pretty Lake Wissota, popular Leinenkugel's brewery, a historic downtown with riverfront, retro eateries, city park and zoo, and hundreds of miles of bike trails. Plus you mustn't leave out the intangibles. "The customer service you read about actually happens here every day with every visitor," said Boos.
Let's start with restaurants. There's The View with its rooftop patio, thus the name, with music on the weekends. At the SandBar and Grill, you'll find great cheese curds and Bloody Marys. The Edge Pub & Eatery is located on the shores of Lake Wissota and offers an excellent Wisconsin fish fry. Overlooking the Chippewa River is Loopy's Grill & Saloon where you can play volleyball year-round and partake of river tube floats in the summer.
Northwoods is synonymous with cabins and cottages and there are lots to choose from in Chippewa Falls, like the Hideaway Resort, with six year-round cabins on Lake Wissota. 
They city's oldest business is Leinenkugel's, which started back in 1867. It's the seventh-oldest working brewery in the nation. Tours are provided daily and they start in the Leinie Lodge.
In the warm weather months, bike the Old Abe State Trail or paddle one of the area's 450 lakes. Come winter, get out the ice fishing equipment, cross country skis and snowmobiles to happily pass the time.
So Sweet: Have a sweet tooth? Boy, are you in luck! There's Olson's Ice Cream, and Chippewa Candy Shop.
Baraboo: Colossal, Stupendous, Astonishing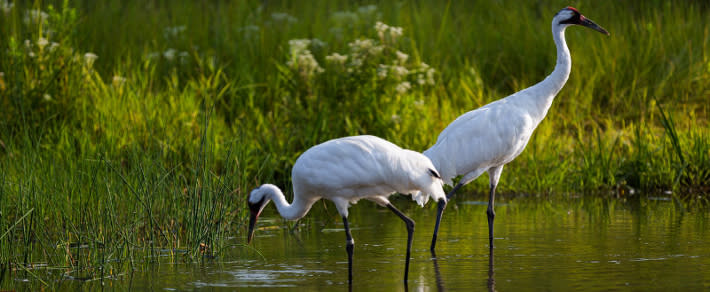 Cranes
The history of Baraboo is forever linked to the circus, given it was the winter quarters for the stupendous Ringling Bros. Circus. Today its charm is still very much tied to the big top, yet it's more of a three-ring draw these days, with the town square and conservation efforts also adding to the appeal. Bobbie Boettcher, executive director of the Baraboo Area Chamber of Commerce, said they never take for granted the "gifts that have been left to us."
Those "gifts" include Circus World, with a colossal collection of restored antique circus wagons; Devil's Lake State Park, the state's most-visited state park with quartzite cliffs that will take your breath away; the Leopold Center that includes the preserved farm of Aldo Leopold, considered the father of wildlife management; the International Crane Foundation, the only place in the world where you can see all 15 species of cranes; and a picture-perfect courthouse square, a focal point of this community, with bustling boutiques and cafes circling it. Be sure to get to Bekah Kate's specialty home goods store, Cornerstone Gallery, Neat-O's Bake Shoppe, Little Village Café, and Con Amici Wine Bar.
Can't Miss: The Al. Ringling Theater, glistening once again like the gilded jewel it was when it first opened in 1915, thanks to a multi-million-dollar restoration. Stay at the Ringling House B&B, original home of one of the Ringling brothers.
Princeton: Treasures To Be Found
For the itinerant treasure hunter, Princeton is your kind of town. It is home to the state's largest outdoor flea market, held every Saturday mid-April through mid- October. When you're done there, head to antique spots dotting the community like MNM Antique Mall and Woolbrights River City Antique Mall. For modern goods, there's Twister for kitchen gadgets, and Daiseye for earth-friendly apparel.
Get a loaded potato chip platter at Once in a Blue Moon Café or a Reuben sandwich at Buckhorn Bar & Grille.
"The people here are the definition of charming," said Beth Pelland, former director of the Princeton Area Chamber of Commerce. "People look you in the eye, smile and say hello, and you feel very welcomed."
Surprised to Find: An annual Rubber Chicken Fling event, in which people fling rubber chickens for distance and accuracy. Clearly, there's no place for pretense in Princeton. They also have a fall festival to celebrate the whooping cranes that summer in the area.
Elkhart Lake: Stylish, Relaxed
This quaint lakeside village veritably oozes charm. There are white clapboard resorts with porches and cupolas, sandy beaches, tiki bars, and a pretty brick promenade, all positioned to take best advantage of the Mediterranean-like blue waters.
According to Kathleen Eickhoff, executive director of Elkhart Lake Tourism, "business owners here are front and center." In fact, it's not unusual for guests of The Osthoff Resort, Siebken's and Shore Club Wisconsin to pop in to say hello to the owners upon arrival.
Adding to the charm is that nearly everything is walkable. Stroll in one direction and you'll find yourself at Two Fish Gallery. In the other direction, Gina's for high-end outdoor apparel and home décor items. And smack dab in the middle is Vintage, a wine store with tasting room.
Bikes are a common sight, too, with serious pedaling in the Kettle Moraine a major draw. Racing at Road America is the modern iteration of the road racing once staged through the streets of the village.
Most Unexpected: Hands down, the culinary scene. Start at Off the Rail for coffee drinks and breakfast goodies, Lake Street Café for lunch, Gesserts for ice cream, Paddock Club or the Concourse Restaurant for fine dining, and Brown Baer for drinks and live music.
Cambridge: Pottery Put It on the Map
Pottery put Cambridge on the map of charming destinations starting in the late 1980s when the community carried the title of "salt glaze pottery capital of the world," setting the stage for quaint shops and restaurants to open. Today, Rowe Pottery Works continues to help define the village as an artists' enclave.
"Rowe Pottery has inspired artists the world over," said Tobi Bolt, a board member of the Cambridge Chamber of Commerce. Along with Rowe Pottery, there's also Cambridge Wood-Fired Pottery.
For urbanites looking for a break from the busyness of their workaday lifestyles, explore the 422-acre CamRock Park system. 
Famous Names: Cambridge was home to two inventors with names vacationers will recognize. Ole Evinrude, inventor of the outboard motor, and Arthur Davidson, one of the founding members of Harley-Davidson motorcycles, came to live in Cambridge in the late 1880s. Fast-forward and you can add race car driver Matt Kenseth to the list of prominent locals.
Stockholm: A Slice of Perfection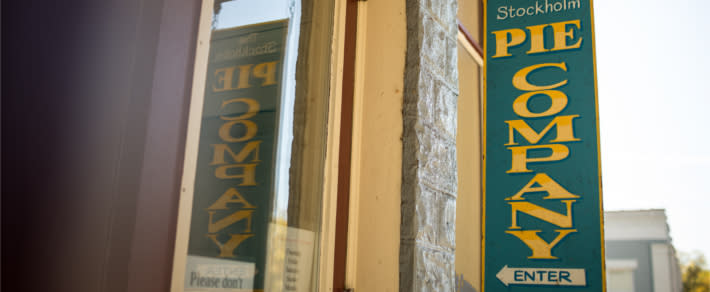 Stockholm Pie Company
This sweet destination along the Great River Road, population 66, has been largely untouched by urbanization. No chain stores here, but what you will find is a humming downtown populated with galleries, boutiques, and a performing arts center. And the biggest draw some say is the world-famous pie shop, Stockholm Pie and General Store, where Triple Berry is the best seller. Plus Stockholm has managed to preserve its Swedish roots. Quite the accomplishment for such a tiny town.
There are extraordinary galleries like Abode Gallery, a destination for fine art and artisan furniture, and Ingebretsen's, with Scandinavian treasures. The Purple Turtle Artisan Collective is the oldest store in the village. Maiden Rock Winery and Cidery offers European-style hard ciders, and Vino in the Valley charms guests with outdoor dining and fantastic wines. A to Z Produce and Bakery has Tuesday pizza night through late October, with the pizza made where the ingredients are grown. The Widespot Performing Arts Center season starts in autumn. Spend the night at Great River B&B, a pioneer Swedish stone cottage and the oldest home in Stockholm where you get the entire house.
"We attract visitors who really appreciate the arts – visual, culinary, performing, art of living well," said Alan Nugent, a founder of the Stockholm Merchants Association.
Geography Lesson: Stockholm overlooks Lake Pepin, the widest spot on the Mississippi. Hike out to Maiden Rock Bluff nature preserve to get a view of the glimmering water, or walk the 700-foot stone pier that juts out into the river.
Ready to get away? Check out these small-town Wisconsin escapes perfect for couples.